Company Profile
---
Pingxiang Huashun Environmental Protection Chemical Packing Co., Ltd. was established in January 2003 with a registered capital of 56.781689 million yuan. It is a private high-tech enterprise based on science and technology. Innovation Forum co-organizer, member of Jiangxi Industrial Ceramics Standardization Technical Committee. Located in the Pearl of Western Jiangxi - National Pingxiang Economic Development Zone (West Area) Industrial Park, the factory area is more than 20,000 square meters, and there are 56 employees, including 27 professional and technical personnel with college degree or above, with an annual production and sales capacity of nearly 100 million yuan .
The company has a number of working organizations, established a sound quality management and after-sales service department, strong technical force, complete production equipment, and advanced testing methods. The company has passed ISO9001: 2015 quality management system, ISO14001: 2015 environmental management system, GB/T 28001-2011 occupational health and safety management system certification, and has won the national high-tech certification enterprise. The first-class construction qualification certificate, the product quality has a reliable guarantee, the implementation of high starting point, high investment, the introduction of a large number of scientific and technological talents, in accordance with the modern enterprise management system to implement bold and strict management, rapid development momentum, sales revenue is on the rise.
It has been commended by the Pingxiang Municipal Party Committee and the Municipal Government for many times. Our company is one of the drafting units of the national chemical industry standards for ceramsite filter material, high-efficiency light-weight film ceramsite, plastic structured tower packing, plastic tower packing, and metal tower packing technical conditions. Since 2007, it has won the national implementation of customer satisfaction products and satisfied enterprises. In 2011, it obtained the national patent certificate for energy-saving device invention. In 2012, it obtained the national key new product certificate. Trademark, Provincial Famous Trademark, and China Famous Trademark. In 2013, it was awarded the project undertaking unit of the Science and Technology Small and Medium Enterprise Technology Innovation Fund of the Ministry of Science and Technology. "Samsung" enterprise, provincial AAA publicity unit for abiding by contracts and keeping promises, provincial quality and credit AAA enterprise, provincial key new products, Jiangxi famous brand products, Pingxiang famous brand products, provincial excellent new technology products, provincial specialization and new small and medium-sized enterprises since 2014 , Demonstration enterprise of deep integration of informatization and industrialization in the city, small, medium and micro enterprises of science and technology in Jiangxi Province... It has become an advanced taxpayer in Pingxiang City for several consecutive years, and has achieved good economic and social benefits.
The products produced mainly cover 18 varieties of industrial ceramics and chemical fillers and more than 200 kinds of products. The main products are: activated alumina, molecular sieves, catalysts, acid-resistant bricks, plates, acid-resistant and temperature-resistant brick products, open-cell ceramic balls, honeycomb ceramics, ceramics Granular filter material, chemical corrosion-resistant ceramic tower packing, metal and polypropylene packing, anti-corrosion and thermal insulation engineering, etc. Products are widely used in petroleum, chemical, fertilizer, natural gas and environmental protection industries. Product sales have covered more than 20 provinces, municipalities and autonomous regions across the country, and exported to Germany, Russia and other countries. The company has now obtained the qualification of import and export enterprise of the People's Republic of China .
The company actively responds to the national science and technology innovation policy, and responds to the national energy conservation and emission reduction environmental protection projects. In 2010, it obtained the "Private Technology Enterprise Certificate in Jiangxi Province" issued by Pingxiang Municipal Science and Technology Bureau, and won the "High-tech Enterprise Certification" in 2011. Invention patent certificate", "A hot blast stove system with pressure regulating function", "Spherical groove packing utility model patent certificate", "Jet type ring design patent certificate", "Lantern ring design patent certificate", "Double ring type design patent certificate" S-ring design patent certificate", "a DC ring packing", "a high flow ring packing", etc.
The company has set up a "technological innovation research and development team", headed by the chairman and general manager Duan Shirong, and hired experts from various universities to guide the work. The company's independent research and development of "single furnace thermal cycle method to produce high specific surface active alumina" adopts the single furnace thermal cycle method, and adds 3A molecular sieve raw powder and aluminum hydroxide co-firing to produce active alumina. The main technology of the product is The index is better than the industry standard, has strong technical competitiveness, and has been highly recognized by the chemical industry. And in 2011, it obtained the "Science and Technology SME Technology Innovation Fund Project Credential" and "Jiangxi Provincial Key New Product Certificate", and was identified as "National Key New Product" in 2012. In 2014, it was identified as "Provincial Famous Brand Product". Activated alumina is the company's main product, and it is also a high-tech product. The first sub-item "High-performance Structural Ceramic Strengthening and Toughening Technology" in "Materials" corresponds to the "high-performance, fine-grained alumina products" and other preparation technologies.
The company's development goal is to gradually become a modern large-scale enterprise that is respected by society, internationally leading in technology, full of pride in employees, and favored by users. In the past few years, we have always insisted on seeking development while maintaining stability, and continued to innovate and reform on the basis of existing design concepts and equipment. We will continue to adhere to the corporate tenet of "management for efficiency, quality for survival, innovation for development", strive to develop environmentally friendly new technology products, and work with friends in the scientific and technological circles, new and old customers to create brilliance together.
The new plant of Huashun project is affiliated to the National New Third Board Industrial Park of Pingxiang Economic Development Zone. The total investment of the project is 150 million yuan. In September 2019, the project has officially started construction. Fully automated production lines for metal orifice packing, polypropylene packing, molecular sieve, activated alumina, and column internals have been built. The implementation of this project will comprehensively improve the quality of Pingxiang chemical filler products, provide high-end products for the market, and promote the overall technological improvement and industrial development of the chemical filler industry. At the same time, the construction of this project has a good role in promoting the development of high-tech industries in Jiangxi Province and the creation of a core growth pole.
  
Pictures of Huashun Phase II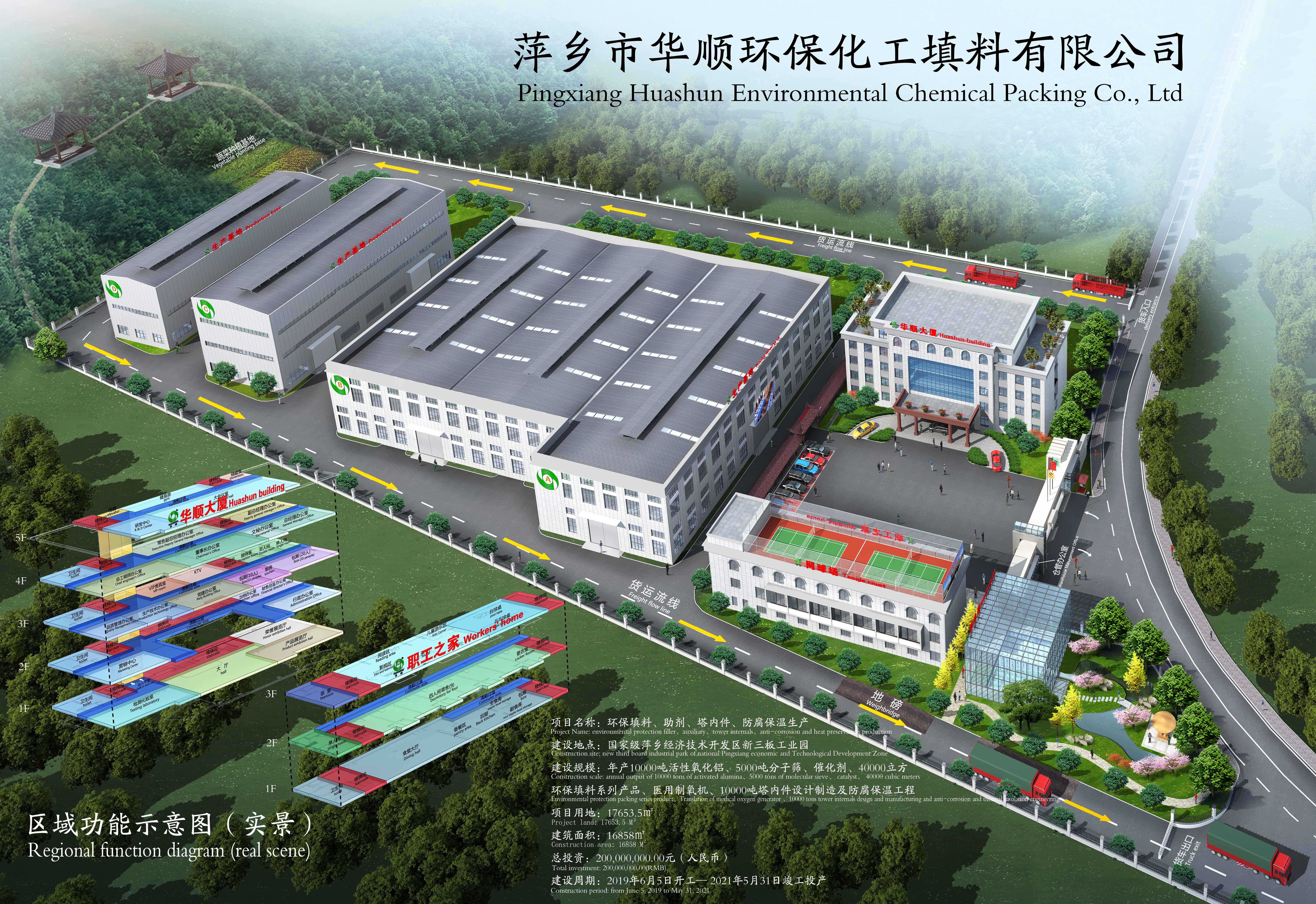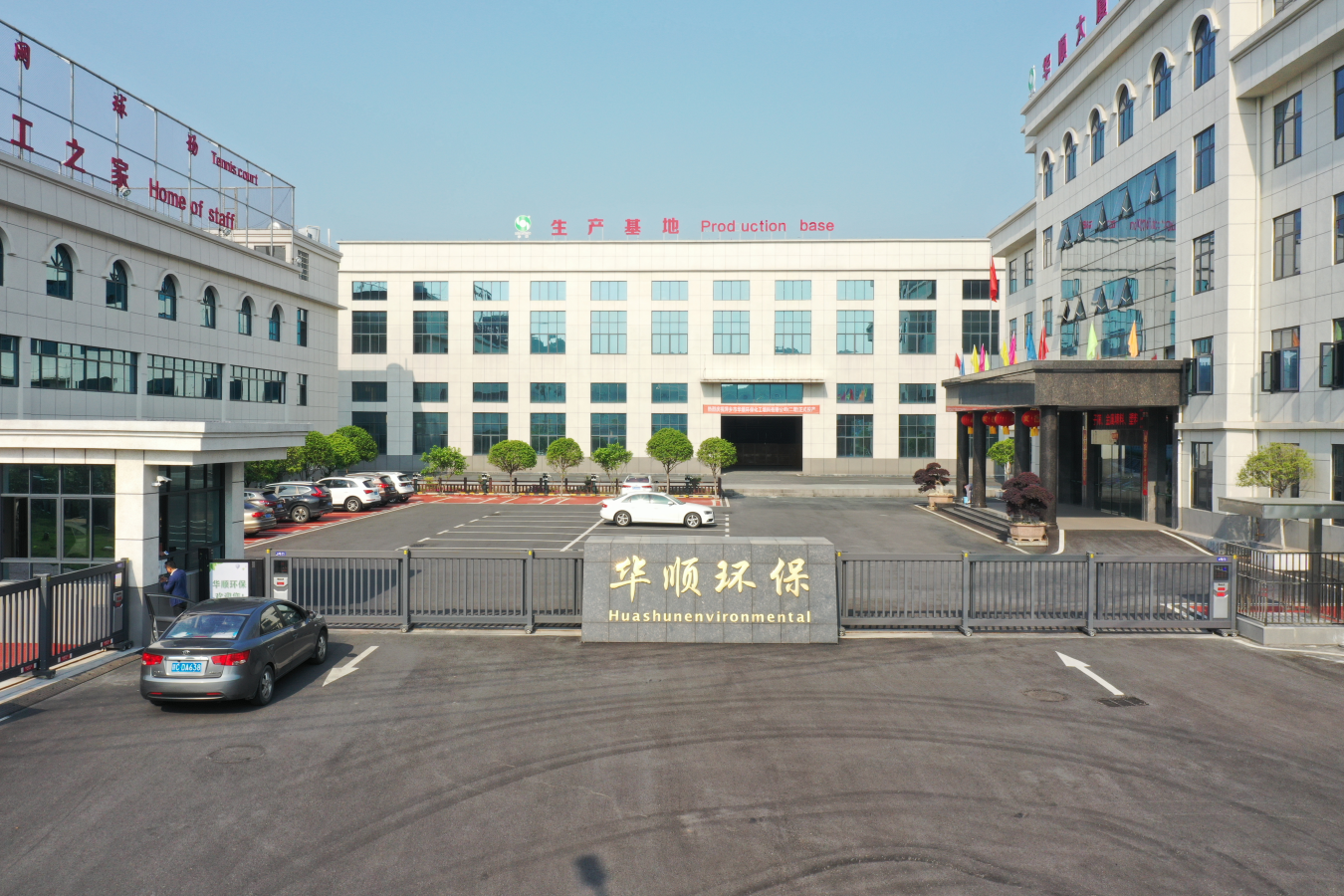 National service hotline
Address: No.9, Shangxian West Road, xinsanban Industrial Park, Pingxiang Economic Development Zone, Jiangxi Province
E-mail:huashuntianliao@163.com
---
Copyright © 2022 Pingxiang Huashun environmental protection chemical filler Co., Ltd All Rights Reserved.Powered by www.300.cn
SAF Coolest v1.3 设置面板
YRFSS-ZGFO-GXAFE-ASV
SVG图标库
请自行添加图标,用div包起来,并命名使用